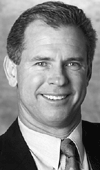 Michael Brochu (Born 1954) joined Sierra in June 1994[1] after 19 years of working with Burlington Resources. He initially served as Sierra's Chief Financial Officer and Senior Vice President. Brochu has been credited for much of Sierra's growth both in size and influence in the computer game industry between 1994 and 1997 through a strategy of making numerous acquisitions of smaller, diverse development houses. He led the sale of the Sierra Network in November-December 1994 [2] as the unit had been losing money for the company. He also directed and negotiated Sierra's many acquisitions of smaller companies from 1995 through 1997. He also in 1995 led the negotiations which formed the partnership of Sierra and Pioneer Inc., a body called Sierra-Pioneer, Inc..
President of Sierra
Edit
On October 9th, 1995, Ken Williams (Sierra's co-founder, Chairman, and CEO) promoted Brochu to the position of President and Chief Operating Officer. In this role, Brochu essentially ran Sierra day-to-day while Ken "ruled" the company and under Brochu, Sierra continued policy of growth and strength through acquisitions. His position as President and COO allowed Ken to shirk off the "drudgery" of being a CEO and focus on developing product in an R&D type role while remaining the company's CEO and Chairman. Said Ken upon his promotion, "It gives me great pleasure to announce Mike's promotion," said Williams. "Mike has been a primary player in researching and negotiating recent acquisitions as well as aiding to strategically direct Sierra toward its long term growth. His enthusiasm and overall experience with cost control systems, strategic planning, and mergers and acquisitions will continue to help me lead Sierra to the next level in our overall success."
He also led the negotiations to sell Sierra to CUC International, Inc. in February 1996 along with Ken. "This should have little, if any, effect on the operations of Sierra," he said, although some administrative functions would be eliminated. He said those changes would affect relatively few people. "What we are is a development company, and that will continue...We were moving very rapidly to be a consolidator in this industry, and this provides an accelerator...This was a very friendly approach. They bring a culture as well as an empathy for our culture that seemed to match very well. 'This allows us to get hooked up to a much larger organization, and when you put the product lines together you have some really good clout when you walk into a retailer." [3]
He was to be a member of the planned CUC Software Board, a group which Ken demanded be created to preserve the autonomy of Sierra post acquisition. Brochu would be on this board along with Ken, Bob Davidson of Davidson & Associates, Inc and CEO of CUC Software, Inc., the new consolidated company composed of the software companies CUC acquired. CUC heads Kirk Shelton and Walter Forbes were also to be a member of this group. The sale closed on July 24th 1996 and on September 19th 1996, Brochu was appointed to the position of Senior Vice President of CUC and thus became a member of CUC's senior management. In the same month he was also appointed as a Executive Vice President of CUC Software. He was made responsible for CUC Software's international business, budget software, and OEM relationships. [4] Despite all of these added titles, he also remained Sierra's President and COO, reporting post acquisition directly to Bob Davidson, and later to Chris McLeod who was named CEO of CUC Software after the resignation of Davidson as CEO in January 1997. [5]
Michael Brochu continued to grow Sierra through the acquisitions and in April of 1997 Sierra under his leadership acquired two companies, Berkeley Systems and Books That Work, Inc. He also approved the creation of the Sierra MasterCard in September 1997. [6] However, on October 24th 1997, Brochu announced his resignation as Sierra's President and his resignation was made effective on October 31st 1997, thus terminating a fruitful three year relationship with Sierra; His resignation led to Chris McLeoud splitting Sierra into three business units. [7] He was suceeded as Sierra's President in June 1998 by David Grenewetzki.
References
Edit
1. http://www.thefreelibrary.com/Sierra+promotes+Michael+A.+Brochu+to+president.-a017568833
2. http://community.seattletimes.nwsource.com/archive/?date=19960122&slug=2310224
3. http://community.seattletimes.nwsource.com/archive/?date=19960220&slug=2315084
4. http://www.thefreelibrary.com/CUC+International+Inc.+appoints+Michael+A.+Brochu+as+senior+vice...-a018699569
5. http://findarticles.com/p/articles/mi_m0EIN/is_1997_Jan_21/ai_19048930/
6. http://www.allbusiness.com/banking-finance/financial-markets-investing-securities/7002925-1.html
7. http://www.gamespot.com/news/2468023.html?tag=result;title;2
Cite error: <ref> tags exist, but no <references/> tag was found
Ad blocker interference detected!
Wikia is a free-to-use site that makes money from advertising. We have a modified experience for viewers using ad blockers

Wikia is not accessible if you've made further modifications. Remove the custom ad blocker rule(s) and the page will load as expected.