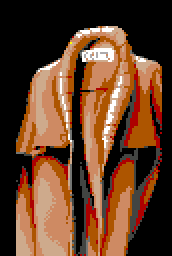 Blade Hunter's Overcoat is formed of synthesized animal hide, blackened by age and exposure to pollution.
Game involvement
Edit
It is found hanging his apartment's coatrack and is worn on top of his clothes. Blade will not leave the apartment without it, it can't be dropped, and he will automatically put it on when it's removed. It's obligatory to wear it on top of the bullet-proof vest.
Ad blocker interference detected!
Wikia is a free-to-use site that makes money from advertising. We have a modified experience for viewers using ad blockers

Wikia is not accessible if you've made further modifications. Remove the custom ad blocker rule(s) and the page will load as expected.